Moving safely from a cot into a bed.
13/07/2016
Making the move from cot to bed, can seem quite scary for both parent and child. For the child, it's a new sleeping space, for the parent it's the thought that your child can (and will) get up out of bed whenever they please. Our children have all been climbers, that's to say when they've reached a certain age, they've used their long legs to climb (or attempt to climb) out of their cots, leaving us no option but to move them into a bed so they were safe. Thankfully, Yo attempted to climb, but never actually climbed out of her cot before we moved her into a big girls bed, but we knew it was time a couple of weeks ago when her foot was regularly appearing on the cot bar!
The problem with moving from a cot into a bed is that a cot offers protection to stop a child falling out of bed, and most beds don't offer that protection, so you end up buying a bed rail, which are awkward to fit, and look unsightly. We were sent an Acosy bumper to try out in Yo's new bed, it is an innovative bed bumper  which safely keeps your little one from falling out of bed, but is disguised as part of the bed – and there's no awkward fitting required! The Acosy bumper is effectively a foam roll with a flat side enabling it to sit flush to the bed, if your child rolls into it they won't hurt themselves or have their sleep disturbed – and they won't fall out of bed either! The negative, you do need to buy the special bed sheet as a normal bedsheet won't fit over the Acosy bumper! Acosy bumpers are available for cotbeds or single beds, and I can imagine that an older child who wiggles about alot in their sleep may benefit from an Acosy bumper too!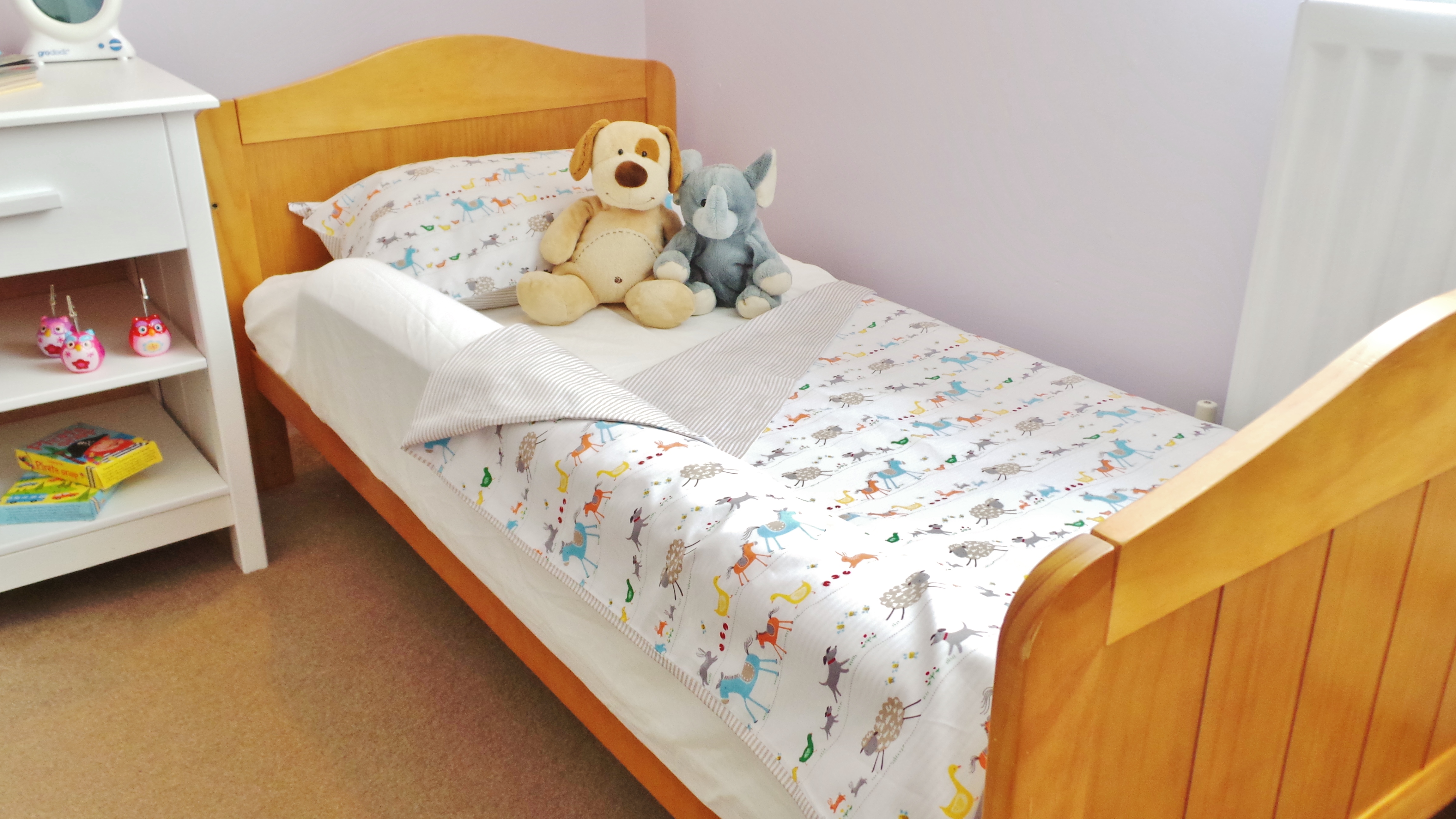 The Acosy bumper has made the transition from cot to bed easier, Yo has been happy leaning against the bumper while asleep and there's been no movement between bumper and bed. The sheet is incredibly soft jersey and washes beautifully too, though I did struggle to get it to fit perfectly without someone to help pull on the other side of the sheet – but that's probably just me! I prefer the Acosy bumper to the bed rails we've used before, as there's no "fitting" and it's soft so if Yo bounces about in Yoga poses at bedtime (as many toddlers do..) she doesn't end up hurting herself. Acosy Bumpers are offering one reader the chance to win their own Acosy Bumper and sheet, all you have to do is follow the steps on rafflecopter below!
a Rafflecopter giveaway

Please note, by entering this competition you are agreeing for your email to be passed to Acosy Bumpers, all t&c's are on the rafflecopter widget. Good luck!
You May Also Like
30/09/2019
20/08/2019