Calafant Pirate Ship Review and Giveaway – #AsobiAmbassador
28/08/2014
We were lucky enough to be selected as an #AsobiAmbassador for August! We were asked which set from the fabulous Calafant range we'd like to review, and given the chance to give a set away too (read on for more info on that!). Calafant offer a range of 100% recyclable models which are fun and easy to build! They're lightweight cardboard models which are strong enough to be played with!
My 6 year old selected the Calafant pirate ship, and couldn't wait for it arrive! When it did arrive he was not disappointed, and struggled to resist the urge to start on the project instantly! The pirate ship was fairly easy to assemble, although he did need a little assistance, he managed to build most of it by himself which was quite an achievement, and he was very proud of each bit he put together!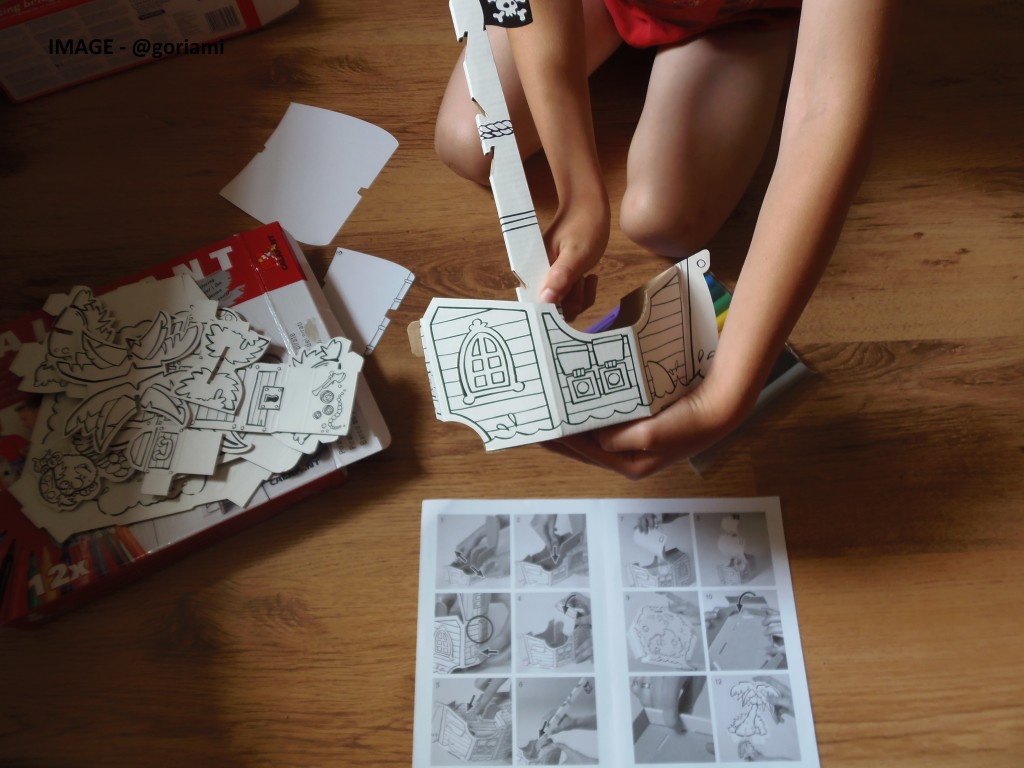 I tried to encourage him to colour before we built, but he mostly didn't want to so I allowed him to build and then colour, discovering that I needed to let the artist work in peace! The felt tip pens which are included worked really well, and had a fairly thick tip so they coloured easily. We talked about using other materials to decorate the ship or pirate, but he didn't want to as he was "enjoying colouring it with these pens!".
He was delighted with the finished item, and the fact that he had been able to decorate it in the way he wanted to!
The joy of this set is that you get the pirate and treasure island as well as the pirate ship. It is easy to build and colour. Has it been played with much? Yes, it has been played with repeatedly since it has been built! The pirate has been somewhat neglected as the pirate ship and the treasure island have been off having adventures on their own..with all the other toys in the toy box!
As a parent, I love that this is something which had to be made and created, it allowed imagination to stir while being created and once built then the imagination ran wild. The cardboard is sturdy and it has survived quite well, while it may not be as robust as other toys, it has the benefit of teaching a child to handle things with care and yet is certainly not fragile. It could be used for quiet play, but we found that after taking over an hour to colour and construct quietly, the noisy pirate had lots of "Ah-har mateys!" and other pirate phrases to hollow as he sailed around the house!
There are lots of sets to choose from in the Calafant range, something to suit each child and imagination! If you fancy  The  people at Kind Toys, who support the Asobi Ambassador program are kindly offering 20% of all Calafant items through September using the code CALAFANT
Check out the reviews and competitions from other Asobi Ambassadors:
http://innocentcharmschats.co.uk/2014/08/review-giveaway-of-a-calafant-palace/
http://www.realhousewifeofsuffolk.co.uk/2014/08/calafant-pirate-ship-review-and.html
http://www.redrosemummy.com/2014/08/calafant-treehouse-review-and-giveaway.html
http://www.amummytoo.co.uk/2014/08/pirate-ship/
http://www.blogbybaby.com/2014/08/calafant-robot-review-and-competition.html
COMPETITION: #Win Large Pirate Ship by Calafant #AsobiAmbassadors
If you want to enter to win your own Calafant pirate ship you can enter via rafflecopter below making sure to read the terms and conditions of entry:
You May Also Like
27/11/2018
29/08/2016
25/03/2021