39 weeks pregnant..the pregnancy wall has been hit..
06/08/2014
I found myself typing "how to bring on labour.." this evening.. it's not that I don't want to be pregnant anymore – in fact I will miss it when I'm not! It's simply as I'm a bit bored of not being able to bend forward to pick up the toys off the floor and having constant reflux at night…
This week I hit a bit of a pregnancy wall, I was exhausted, uncomfortable, and crying sat on the edge of the bed a little before midnight trying to explain to the rather forlorn Mr G that I was just emotional and felt a bit rotten. I found it hard to say that I wasn't enjoying pregnancy, after having had a tough time to get to this pregnancy, I feel as though I am being ungrateful. But the trouble is I am only human, and the bump appears to have doubled in size – it may not look it to you, but it is now pushing up against my ribs and down against my hips. I'm worrying – again – that baby is huge..I am worried that I haven't enough clothes to fit a big baby..the problem has always been the clothes we bought were too big for our babies before..so I've assumed that would be the case again, but it's not looking hopeful!
The good stuff, well.. as it's cooler, my hands and feet aren't as swollen as they were! I have bursts of energy which I've used to entertain the boys in one way or another and I have sat admiring both my gorgeous sons as they entertain each other while I sit in a heap when my energy depletes! I feel guilty that they are perhaps not having as much fun as I would hope they are, but then I've seen masses of creativity from them in the last few days where I have lacked energy to give into every request to "do" something, so it's not all bad!  I just wish I had a little more energy, or a little more mobility to get things done, there are so many things I want to get done!!
x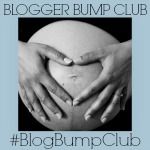 You May Also Like
05/01/2020
01/03/2020
18/06/2019