Real Construction – Review
02/12/2016
Real Construction from jakks pacific, is children's woodwork set. Rather than using real wood and tools, it contains safer alternatives.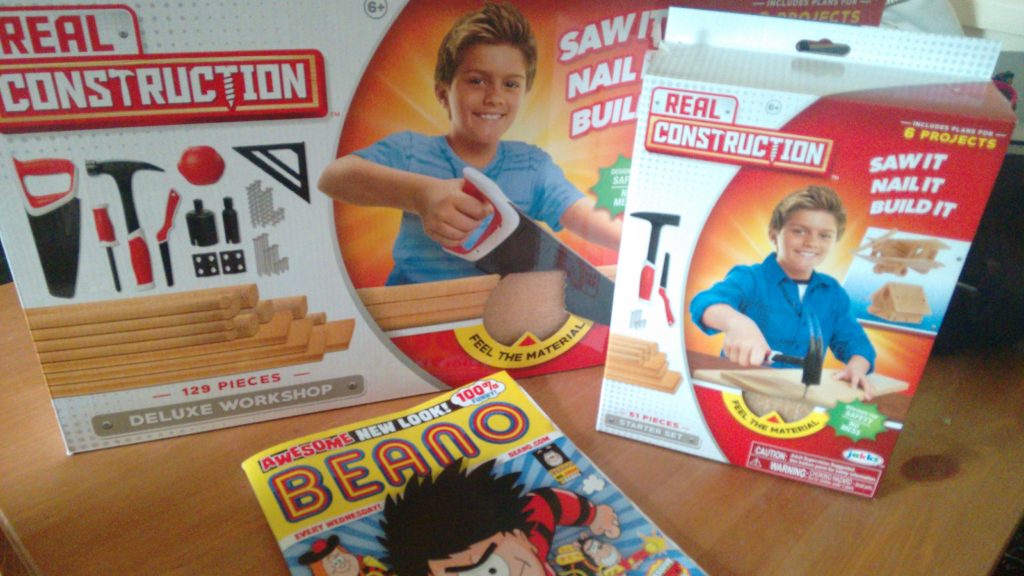 My sons were quite excited to get the chance to review the kit, and they were challenged to make a speed boat which featured in the Beano magazine. The first impressions of the kit were very good, the tools look very realistic, but are not sharp. The "wood" is really a foam, so no splinters to worry about!
I didn't find the instructions which came with the set very clear, which was a shame. So making some of the projects was quite difficult. My 8-year-old found the instructions frustrating and decided to go off plan, with mixed results. My 5-year-old had a more practical approach to measuring and planning each project, so his efforts were I think better. The instructions with the Beano are easier to follow, as although they're not very detailed the images are clear for children to follow. Below is my 5 year old's speed boat, he added an extra bit as he decided it needed a roof! He was also delighted that his boat actually floats!
It's definitely a toy to play with together, explaining the need to measure and mark out the project BEFORE sawing up the wood! It could be a great educational activity to enjoy of the holidays, and fun to play with what you've made afterwards. We plan to buy some more wood, and have another go at making the helicopter – our initial attempts failed.
I like the kit, I think it's a lovely idea to encourage children to play and learn a practical skill. The skills they learn using the Real Construction set could easily be translated to real wood work. It's a great introduction to how to make things, and how to use each tool. We had great fun, playing with the set, even though our designs didn't always work! Learning to follow the plans may take us a while!
Disclaimer: We were sent this for the purposes of review.
You May Also Like
18/06/2019
30/09/2019
21/07/2019