My top 3 Flat summer sandals!
03/07/2015
I love shoes, I make no secret of an on-going obsession with footwear! Shoes, always make me feel great and the right pair of shoes can make an outfit! As we're in the midst of a heatwave, and my thoughts are very much on summer holidays I've started to look at must have summer sandals! 
Being tall, I tend to wear flat shoes or wedges whilst it's hot as I find them more comfortable, so these 3 styles are my favourite flat summer sandals.
These pretty jewelled sandals, would be the perfect day into evening shoe – ideal to wear with a pretty dress, linen trousers or your trusty denim shorts!
Sight-seeing is somethng I love to do whilst on holiday, and comfortable shoes are a must! These Clarks sandals which look perfect;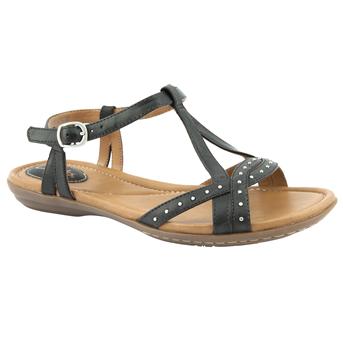 I can imagine me managing to walk around the cobbled un-even streets of a foreign town without any effort in these! These are a practical style, but the stud detail across the front makes them quite stylish too.
Pre-children my footwear was all about pretty, post children I still want pretty but also need to be able to sprint down the beach to recover the lost football! My beach footwear must haves are these sandals from Josef Sibel;
I like the metallic colour and flower detail, while the double strap makes them practical to wear. If you've never come across Josef Sibel, they make really comfortable sandals and shoes, which you can wear all day – well worth trying them if you haven't already!
All these styles and many, many more are available from Brantano now, this post was written in collaboration with Brantano, but the styles chosen and thoughts are all my own! So are you ready for some summer sandal shopping? Which styles are you planning on wearing?
You May Also Like
05/01/2020
12/05/2019