Love my Mum tum! #realmumsallbran
29/07/2014
I'm going to cut to the chase, as soon as I had children I went to the back of the line with just about everything, and certainly keeping my belly happy was not a priority. I'm not just talking about the whether my belly looks toned or flat (it hasn't since 2008..) I'm talking about what goes on inside there! Being pregnant, I've tried to take better care of myself and my diet is the first thing I've looked at!  I then found myself prescribed iron tablets..and anyone who has ever had these will tell you they really do play havoc with what goes on inside your belly! So, getting the chance to do the #RealMumsAllBran 5 day challenge couldn't have come at a better time! All I had to do was ensure I ate a bowl of All Bran for 5 consecutive days, and then let you all know how it went.. simple!
I was sent three boxes of Kelloggs All Bran cereal to try; Golden Crunch, Red Berry crunch and Chocolate wheats. I have a confession to make, I didn't get to try the chocolate wheats as a) I'm off chocolate at the moment and b) the boys (including Mr G) ate it all before I got a chance.. apparently it was really tasty though!
So, I weighed my portion out daily and tucked in..guess which was my favourite flavour..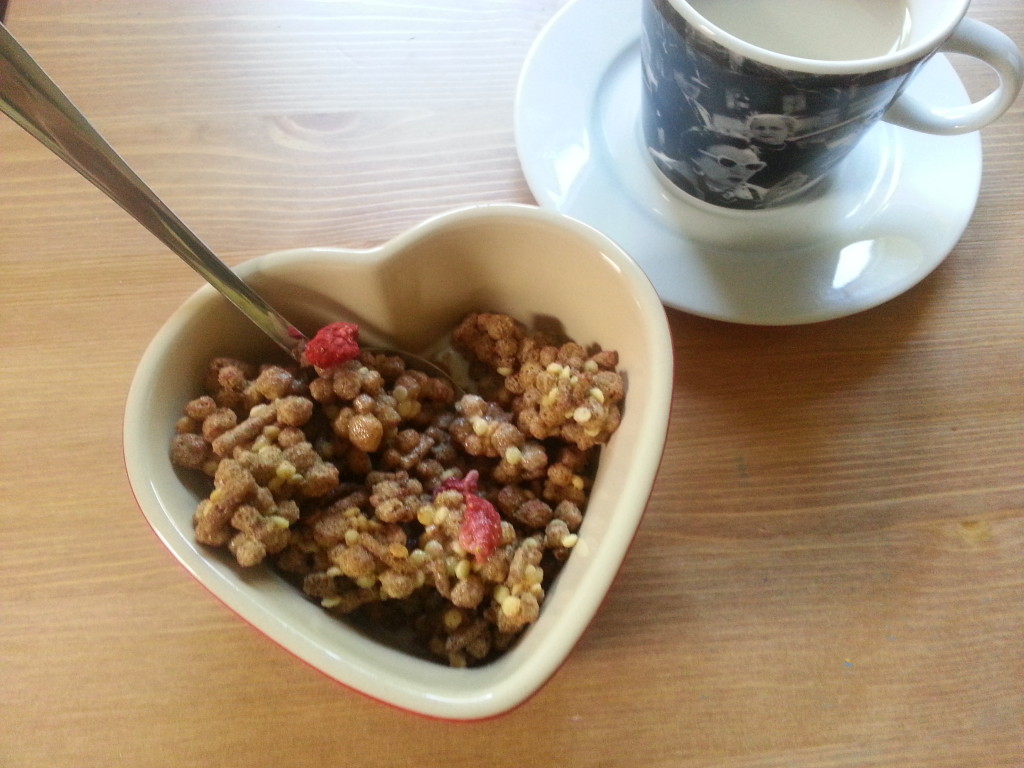 I found by using a smaller bowl then my usual giant cereal bowl, I was happy to eat the recommend portion, and I confess I was very satisfied with the portion. I loved the red berry crunch and enjoyed the golden crunch too – although I did find that quite sweet some mornings!  I also actively enjoyed sitting down to breakfast with the boys, where normally I grab something on my own in between packing the lunch boxes – so another good thing learnt during the challenge!
So, what happened at the end of my 5 day challenge?  I obviously can't comment on whether I am less bloated as I'm 8 1/2 months pregnant! But, eating All bran for 5 days in a row, I definitely noticed that the side effects of the iron tablets were eased –  it was easier to go to the loo and I was less erm.. full of wind! So I'd say enjoying All Bran for breakfast was a success! The thing is we all know we're meant to eat more fibre in our diets, but frequently high fibre foods aren't something we can look forward to eating. I do actually enjoy my daily portion of All Bran, and have stuck to eating it well beyond my 5 day challenge! Go on ladies, show your Mum tum some love and treat it to a portion of All Bran for breakfast!
This post is an entry for the Real Mums of All-Bran Linky Challenge, sponsored by Kelloggs.
You May Also Like
25/03/2021
13/07/2019
21/06/2021