Why you need a jumper dress this season.. #JumpinDresses
30/12/2015
The run up to Christmas was all about school plays, Christmas shopping, catching up with friends and fending off all the winter bugs doing the rounds! I wanted to be dressed fashionably, but functional to, and if I'm honest I needed something to get me out of my trusty jeans!
George at Asda has a great selection of jumper dresses, perfect to see you through to spring! Jumper dresses are seriously versatile, dress them up or sling them on with leggings for the school run! I styled mine with wellies and a bobble hat, perfect for visiting the Christmas markets or going out on a dog walk!
Bobble hats are everywhere this season, and Asda offer a fabulous one complete with over sized pom pom – the Pom-Pom Beanie! Fear not, the pom pom does not sit on top of your head making you look like a children's cartoon character, instead it allows the hat to hang to the back or sides. I make no appologise for this no-make selfie, as I think the hat does all the talking! At £6 I think the beanie is a great winter accessory and goes brilliantly with my jumper dress!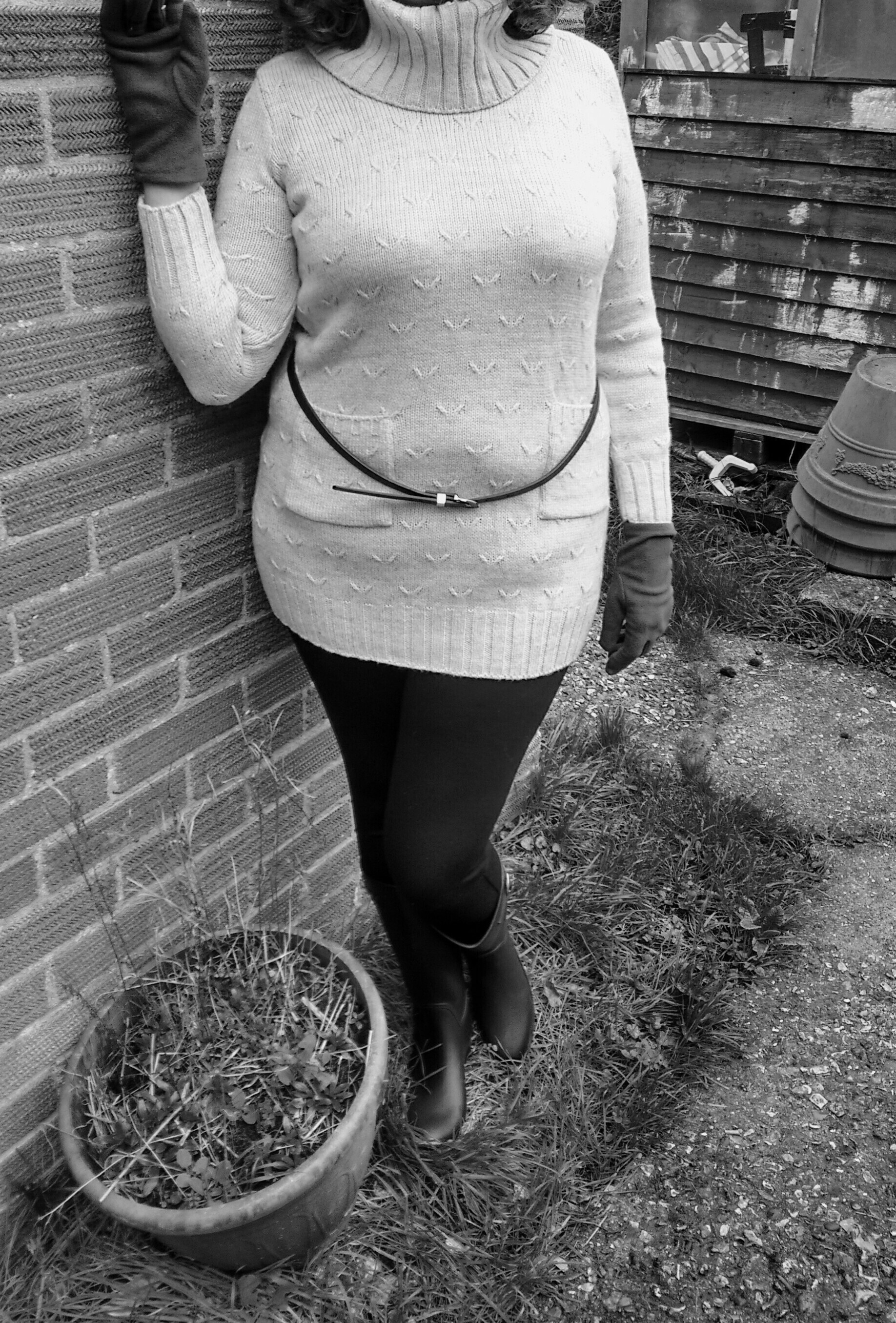 The jumper dress I chose was a really warm and cosy style with a polo neck, I loved being able to pull the neck right up to my ears! I sometimes worry that wool type fabrics (this is acrylic) will be itchy on my skin, but this dress was wonderfully soft and I can happily report it was comfy to wear! I am quite tall, so the jumper dress I chose is quite short, but works well with leggings and boots! I added a belt to the dress to give it a bit more structure.
I chose wellington boots with a tartan print, as they added subtle colour to the outfit, giving it a seasonal feel. These wellies are super comfortable and perfect for Hogmanay celebrations!
The leggings I chose were a really great fit, usually leggings I find myself hitching up throughout the day, but these stayed put! They're really comfy, the fabric is really soft and washes brilliantly. I loved the lace up detail on the ankle, and I can see myself wearing them throughout the winter season!
Jumper dresses are the perfect fashion solution for my Autumn/Winter wardrobe, they're easy to wear and can be dressed up or down with accessories. If you're looking for a versatile solution for your wardrobe jump in to a jumper dress!
You May Also Like
30/09/2019
25/11/2019

26/01/2016