Toddler footwear from Attipas – Review & Giveaway
01/12/2017
Toddlers can be awkward when they come to footwear. They want it all. Lightweight, comfortable, brightly coloured and the ability to take put them on (or take them off!) without any help from anyone else!
Attipas are designed to be pulled on like a sock, but with a sole which is made for walking both indoors and outdoors!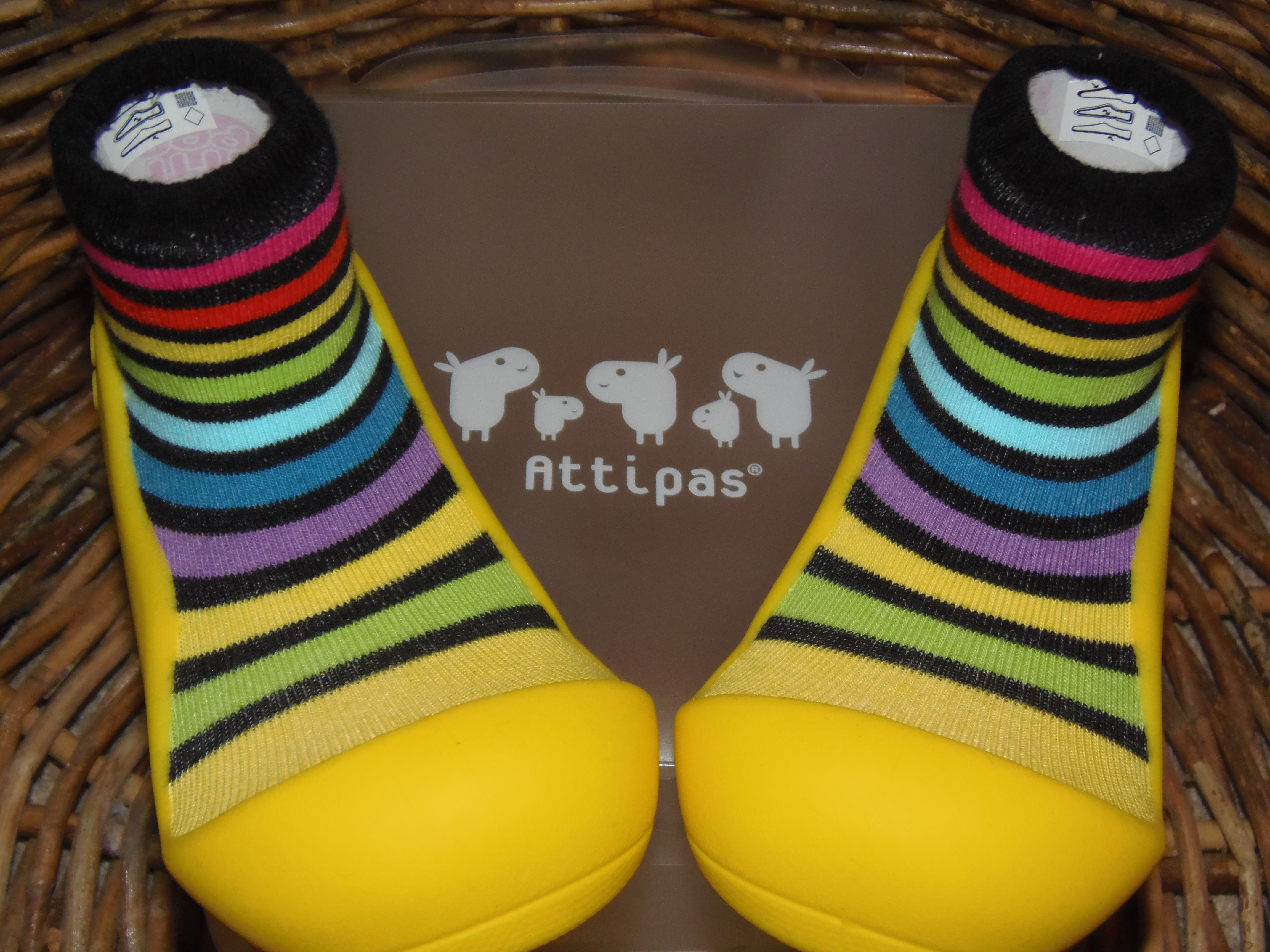 Why Attipas?
The soles are made from non-toxic rubber. They're super soft! It's like letting your toddler walk around in socks, but with a non-slip sole which protects delicate little feet.
Designed with plenty of room around the toes, keeping little toes wriggling! There are holes in the soles which allows feet to breathe.
Attipas are available in UK Toddler sizes 2.5 – 8, though there is a limited selection available in size 8. We tried out Rainbow Yellow in XXXL (UK Toddler size 8). They are a super bright style perfect to liven up an outfit! My daughter loved being able to put them on herself and take them off! She didn't like the wide toe rubbery toe,  though adored the stripes. She's only 3, but is already quite a fan of shoes, and rather fussy!
Parent Thoughts
From my point of view, the only real problem I have with these is that they're not ideal for winter. The fabric part of the sock could quite easily get wet, and feet cold. So for winter we have resigned to wear them for indoor use. However, I will say that they are perfect for wearing after a muddy walk – take off the wellies before you get in the car and slip these on! No need to worry about carrying your child in the house, or about mud in the car!
WIN a pair of Rainbow Yellow Attipas!
I have a pair of Rainbow Yellow Attipas in the size your toddler needs to giveaway! I think they would make the perfect stocking filler! So, how can you enter? Follow the simple steps on rafflecopter below!
a Rafflecopter giveaway

Terms and Conditions
UK Entrants Only
There will be ONE winner
The prize is a pair of Attipas in Rainbow yellow, the winner may select the size they require.
Competition starts 02/12/17 closes on 15th December 2017
Winner will be selected at random.
Winners details will be shared with Attipas for prize fulfilment.
Please allow 28 days for prize delivery.
You May Also Like
25/11/2019
25/03/2019
19/07/2021