Prescription Dive Mask – Snorkelling with Sharks at the London Aquarium.
15/09/2015
Did you know you can get prescription goggles and dive masks from Boots Opticians? I was excited to get the opportunity to try out a dive mask made with my prescription. It was a simple process, pop in to my local Boots Opticians to have an eye health check, and let the lovely staff help me order the dive mask I needed. Simple!
And what's the best way to try out a dive mask? Snorkelling with the sharks at London Aquarium of course!
I was filled with adrenaline when I arrived at the London Aquarium to snorkel with the sharks! We had a quick look around, admiring the sharks from outside the tank.. I say admiring, I may have felt some fear too!
Then we were treated to a behind the scenes tour, including our guide showing us what the sharks were fed, and how frequently (apparently they're only fed three times a week.. I hoped today was a day they had been fed!). Finally the time arrived to get ready to leap into the cage sitting in the shark tank, to try my prescription dive mask out!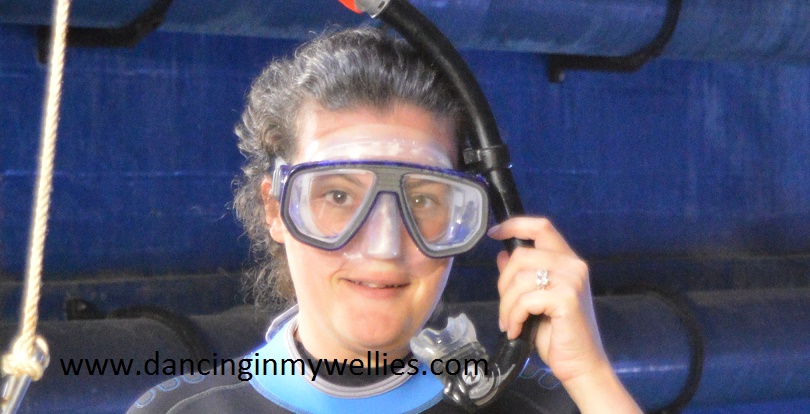 I'd already adjusted the mask and prepared it to help prevent it fogging up, the lady helping me with the snorkel was also on hand to provide some anti-fog spray. After a quick change into my wetsuit and boots it was time to get into the water!
I'm not going to lie, the water was cold and initially I was a bit of a wuss, barely daring to move away from the ladder let alone put my face in the water! Suddenly being this close to such big sharks – and believe me they are big – didn't seem like such a great idea! Then I remembered that.. more people die from hippo attacks than shark attacks each year, and yet I still think of hippos as cute!! With that I found myself under water alongside Betty the Bowmouth shark, she was huge and intriguing. With my mask it was like wearing my glasses, so I could see her markings really clearly!
The mask was comfortable to wear, it was soft against my face and to be honest I quickly forgot I was wearing it! I loved being able to see really clearly under the water and it reminded me how much I used to love doing things like this before my eye sight required me to wear glasses!
I'm now planning a new adventure to take my diving mask on, though I'm not sure I'll be able to beat snorkelling with sharks!
Disclaimer: The Mask and Snorkel with Sharks experience were provided by Boots for the purposes of this review, all thoughts and images are my own.
You May Also Like
28/08/2018
31/07/2020