Half term activities – Wyevale Garden centre
01/06/2016
Wyevale Garden centre are offering some of their popular family activities to keep children busy this half term. The fun activities for children this week are focused around bees, so it's Busy Bee Week Today we were invited along to join in the fun!
Bee Bakery!
Today, the children got the chance to make honey and cinnamon biscuits, and decorate a bee cupcake. Most children love baking, but sometimes parents find the mess stressful, or struggle to come up with new ideas. Wyevale offer the chance for children to have the fun of creating something to take home under careful supervision of parents and with a little help from the Wyevale staff too!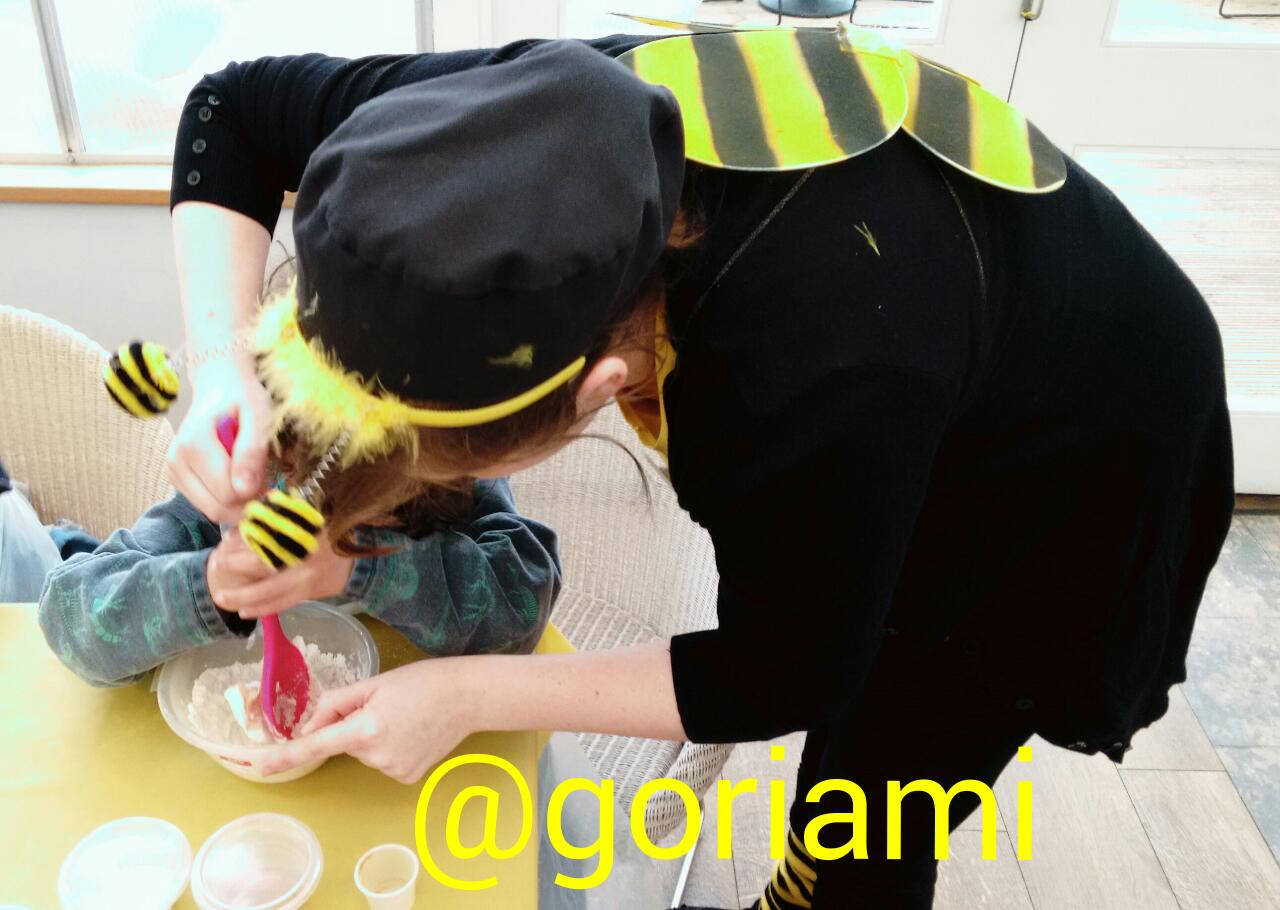 The session we went to started at 9.30am and it was full, lots of children had already been to a few events at the centre – which I think is a recommendation in itself! The started by getting the children into disposable aprons and getting them to wash their hands. The ingredients for the biscuits were laid out in front of each child ready weighed. Each child added their ingredients, and got to mix their biscuit mix up – with a little help in some cases as the butter was quite firm!
The children were all enthusiastic at mixing, and then were given juice and colouring to do whilst they waited for the mix to cool in the fridge. They then needed to create 6 biscuits, which were taken off to bake. While the biscuits baked, the children got to decorate a bee cup cake, and this was the bit probably the bit my children enjoyed the most! The boys decorated their cupcakes carefully, and each came up with an individual bee design!
The biscuits were packed up into boxes for the children to carry home, and the boys carried their cakes with their biscuits for the journey home.
This activity costs £5 per child, and I think it is well worth it, the boys thought it was great fun, and I enjoyed being able to support them rather than worry about the mess! My only grumble would be that it would be nice if the children were given a recipe sheet for the biscuits that they'd made so they could make them again at home. Otherwise, it was a lovely family activity, and next time we shall book Yo a place too!
Disclaimer; We received the places on the activity free of charge for the purposes of review.
You May Also Like
05/03/2019
18/09/2016
17/09/2018