Bed tidy – Hillarys Craft competition entry
19/06/2015
Hillarys are running a great crafting competition for bloggers, and I decided to enter! I chose a piece of the lovely Rayna Apple fabric to work with, and then only had to decide what to make!  After careful thought, I opted to make a (bunk) bed organiser!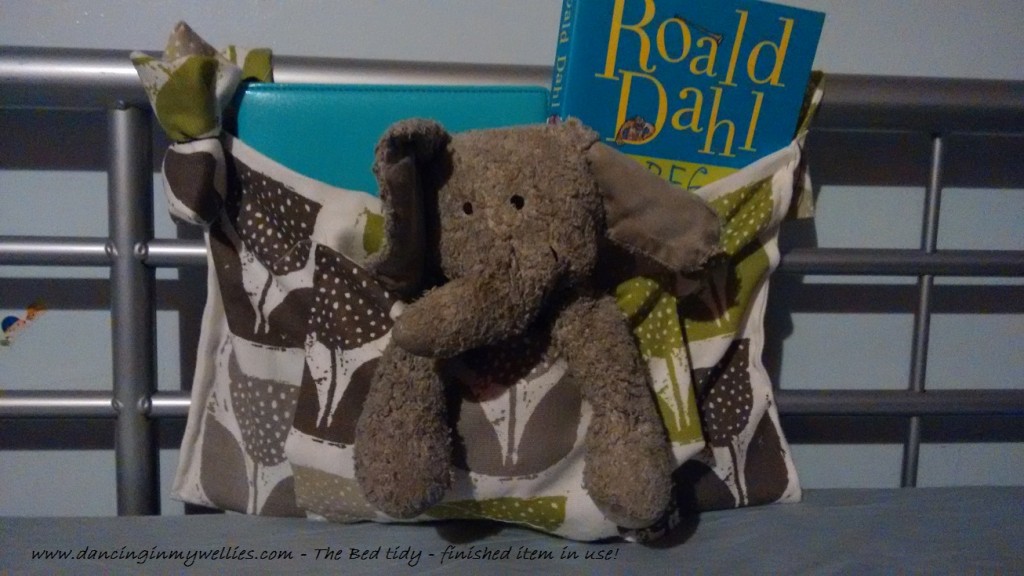 My son is forever storing things under his pillow and when I tidy his room, there is a mass of toys, books and a water bottle shoved under there! He has a high bed, so a bedside table is useless to him, with this in mind I've made him a tidy to fit onto the bars of the bed.
DISCLAIMER!! I must first tell you, that I cannot sew very well, my skills are basic at most! Oh, and I don't have a sewing machine.. (remind me again why I decided to enter this challenge?!).
We were sent one metre of fabric, I cut the main part of the pattern using half a metre. As I wanted to keep things simple with my pattern, I did cheat a little and use an envelope style, but if you wanted the tidy to look perfect you would need to cut two pieces instead so that the pattern was the right way up all the way around.
I used some denim off cuts to reinforce the back of the bed tidy (I literally used it as a lining between the fabric) and help keep its shape, I think I should have probably added a little reinforcement to the front too, but I didn't!  The straps were sewn into the lining to reinforce them, I then put poppers onto the straps tp attach the tidy to the bed. If it had been for an adult I would have used ribbon to add a different texture to the item, but for a child I decided to opt for an easier/safer method of securing! On the finished item (image at top of post) my son has also attached a rosette to the corner – very cute!
It may not be a perfect example, but I really enjoyed making it, and I think I may now invest in a sewing machine so the next project is a little easier to handle!
You May Also Like
30/09/2019
24/10/2016
25/08/2019