Star Wars Kids Shoes by Po-Zu Review
25/10/2017
Finding ethically produced shoes, and choosing shoes which your child ADORES doesn't always go hand in hand.
With brands like many main stream brands producing in countries such as China, India and Vietnam you can't guarantee that children as young as your own aren't making your shoes. Films such as the True Cost Movie have highlighted the problems of trying to mass produce in order to keep the cost low to the consumer. But at what human cost?
And then, we found these Star Wars Shoes from ethical shoe brand Po-Zu made under license from Lucas Films/Disney, I can please us both! Po-Zu have created a range of styles inspired by iconic Star Wars characters. Styles for both adults and children, and we all adore them!!
Star Wars Styles
The big problem was which style to choose? The Storm Trooper inspired style and the Chewie boot I really loved! However, my son was instantly drawn to the high-top styles. He might only be 6, but he knows what clothes he likes already! Eventually we chose Resistance High Tops.
The shoes arrived beautifully boxed. I was amazed at the attention to detail, the box with its gorgeous Star Wars light burst graphic!! Even the wrapping paper around the shoes inside the box is "Star Wars" branded. A really lovely touch, especially if you are giving these as a gift!
Kids Resistance High Tops
Unmistakeably Star Wars branded, they proudly display an official rubberised Rebel Alliance badge on the ankle. The Resistance high tops are available in black or red. We chose the red ones, as let's face it they're really eye-catching and fun! I'm a little jealous. Thankfully they do an adult version too!
My son was a little worried that they have laces, and he doesn't like laces! However, Po-Zu have cleverly designed these boots so they lace up to get a great fit, and a zip which can be used for day to day taking on and off! So, I'm happy that they fit well, and my son is delighted that he doesn't need to do laces! (We're still working on that so any tips welcome!)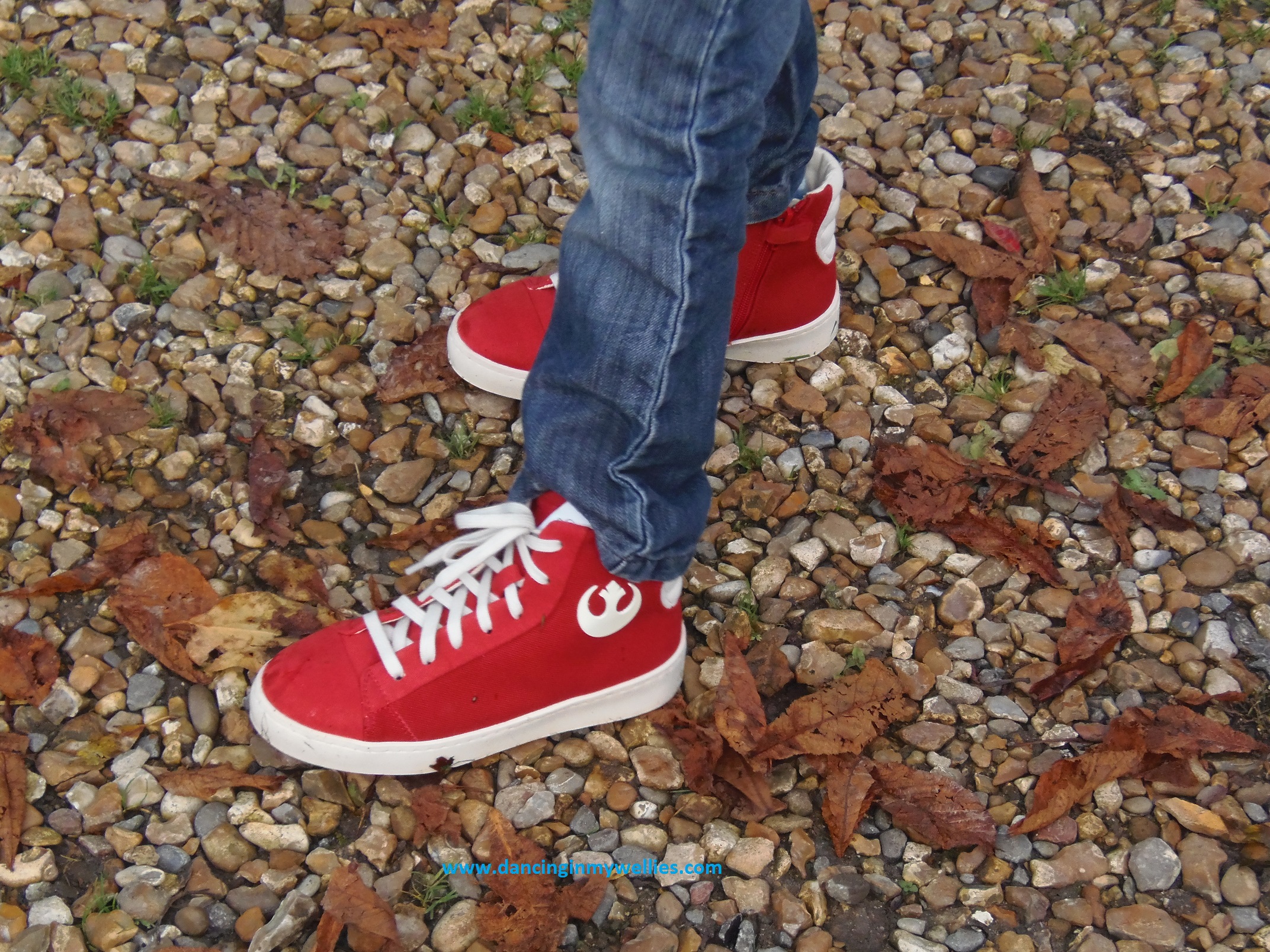 What did the 6 year old say?
They have been described by my son as "Great! Love them! Can't wait to wear them to a party!!". He loves the fact the shoes have a subtle but iconic logo. The high-tops are lighter weight than other high-tops he has previously had. Comfort is really important to my son. He won't wear anything uncomfortable! Describing the soles as "squishy" they get a big thumbs up! I can tell how loved they are as they're the only shoes I don't need to ask him twice to put on!
My view..
I try to make ethical choices. Though, it's quite hard as a parent to keep up with the trends my children love, and stay ethical! The High-tops are made with Organic cotton. Better for those making the shoes, and my son! I think the range proves unequivocally that ethical can be cool. Branding is subtle, so even if he falls out of love with Star Wars (he won't!) the shoes will still be wearable. Size wise, the shoes are in European sizing. Available in Euro size 30 – 35 – UK Kids size 12 – 3. For older children there is of course the adults range to shop from!
The price of the high-tops is £65, which I think is competitive. Currently, there's £10 off a pair if you sign up to the Po-Zu Newsletter!
To find out more about where your shoes are made – click: https://www.bettershoes.org 
DISCLAIMER: We received these shoes for the purposes of an honest review.
You May Also Like
17/09/2019