Life's a picnic.. #MagpieMonday
12/05/2014
Days out with the family can cost a small fortune in food and drinks alone, so we always try to take a picnic with us when we go out! However, our trusty cooler bag/box don't exactly inspire the romantic image I visualise when I think of a picnic..and I have been nagging Mr G for a while to let us get a "proper" picnic basket. This week, in the pouring rain I went to drop some of the boys old clothes into the charity shop and spotted a picnic basket which was perfect for us and complete with cups, plates and cutlery! Roll on a summer of thrifty days out with our thrifty £5 picnic basket!




Some of you will remember my upset when Mr G accidentally smashed my favourite Le Crueset dish it had been a gift and we'd loved it for many years. Not *quite* the Le Creuest dish, but beautiful and fitting well with the picnic basket, I found these two beauties;





How gorgeous are they?! I will have lots of fun with these, and they'll be ideal for a romantic picnic for two too! Plus at £4 for the pair I think they were a true bargain!

Linking up with the lovely Liz for Magpie Monday, click the picture below to discover all the other amazing thrifty finds people have discovered this week!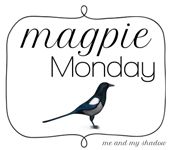 You May Also Like
21/06/2016
05/03/2019