Growing Business?
20/05/2016
Moving is a stressful process, I've just moved house, and it was time consuming and costly! But what happens, if you are running a business, and you've outgrown your premises? There are so many considerations to make, so many expenses which go into a house move, and even the nightmare of updating all the business cards and brochures! So, what if you could make your business space work better for you?
There are options like storage units, an off site unit to store paperwork or merchandise away from your company office, which may be cheaper than uprooting your entire buisness. Some businesses look at work from home options to free up office space, or encourage workers to follow the growing trend of working from a coffee shop.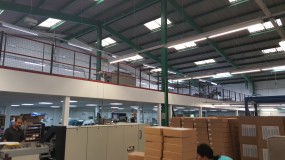 However, many businesses rely on the staff and goods being on site, and therefore when they outgrow their current premises they either have to move or look to how best they can expand. While an extention is often not an option in a warehouse style building, a mezzanine floor might be the perfect warehouse storage solution to expand your storage or even office space. It can provide extra space within your current business work space, whether you want a management office, or storage for your merchandise, there are suitable options to suit every business. So before you start thinking about moving your business, start by considering how best to make your current premises work better for you.
This is a collaborative post.
You May Also Like
28/08/2018