My First Scalextric – Review
06/12/2016
Scalextric sets have been on the top of Christmas lists for many years, in fact I bought my husband a set a couple of years ago! My First Scalextric, is aimed at children aged 3 plus, and is an ideal introduction to Scalextric fun!
My sons were quick to point out that they had actually had a My First Scalextric a few years ago, but THIS set is different! The old My First Scalextric was battery-powered, this NEW set uses mains power. No need to worry about batteries running out half way through a race!

The cars are quite detailed, and look smart. The bold red and yellow colours are appealing to younger members of the family, and my boys each chose "their own" cars.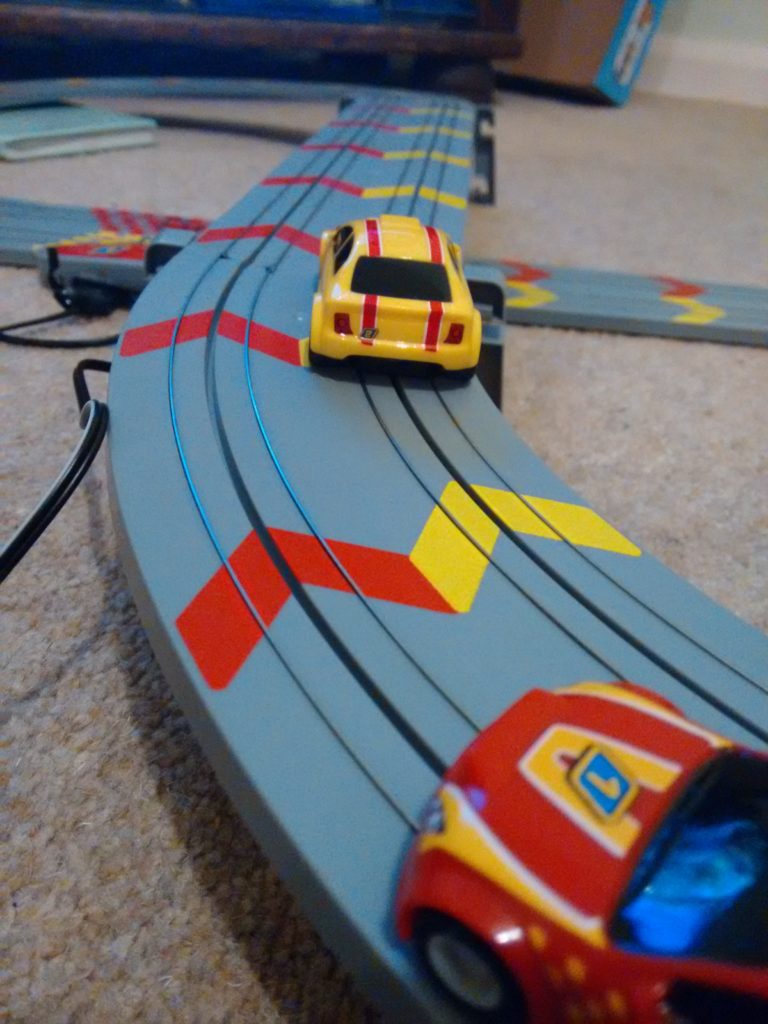 The track clicks together to form a figure of eight. It's quite easy to build, and my 5-year-old son can build it quite readily. We do sometimes find we need to help make sure each piece is properly clicked into place though! Where the pieces join together they are a bit flimsy, and so I think a little help is needed especially when dismantling the track to prevent damage.
The remotes have a speed restriction switch on them which will make it easier to race the cars – as they are easier to handle. It has meant my 5-year-old gets a better chance against his big brother, as he's not sliding off at every bend.
The children have really been enjoying playing with the set. I think it's one of those timeless toys which can be enjoyed by all the family. The boys have already been looking at which Scalextric set they could get next, they want super fast cars! I know that as they're learning well with the My First Scalextric, a faster set will be able to be enjoyed and looked after!
Disclaimer; We were sent the set for the purposes of an honest review.
You May Also Like
27/11/2018
22/09/2021
17/10/2016