Christmas in Basingstoke
01/12/2016
Christmas is a time when as a family we like to venture out and about. This Christmas, there are lots of festive activities happening for Christmas in Basingstoke. Basingstoke is a great shopping destination in the South of England. With excellent transport links, tons of parking and the main shopping area within an easy walk of the Railway Station!
With a wide range of shops, Basingstoke boasts two main shopping areas – The Malls, and Festival Place Shopping Centre with plenty more independent stores in the streets surrounding. The Christmas lights are fabulous, and twinkly! I think I prefer the ones in the Malls to the ones in Festival Place, but Festival Place has a fabulous Christmas Train which is rather an impressive feature;

As part of us celebrating Christmas in Basingstoke, we had a ride on the Santa train. The train goes a bit quicker than I'd expected but not too fast, we whizzed round three times, and then climbed off to join a queue to see Santa. The queue was just over ten minutes to see Santa, and I was a little disappointed that there were no elves to entertain the queue or at least remind us that it wouldn't be long until we saw Santa.
Santa himself was wonderful, but clearly very busy, it did feel a little hurried but for the cost of the visit I think it was ok. It is a reasonable price, and the train ride makes it quite a fun experience. The gifts, the boys were both delighted with their little gifts, one got a Minion sticker book, the other a mini computer game. My daughter was given a gift which was unfortunately aimed at age 3+, so  a bit too old for her. A negative to this grotto was the queue to get out once you had seen Santa, it takes them rather a long time to process photo gifts.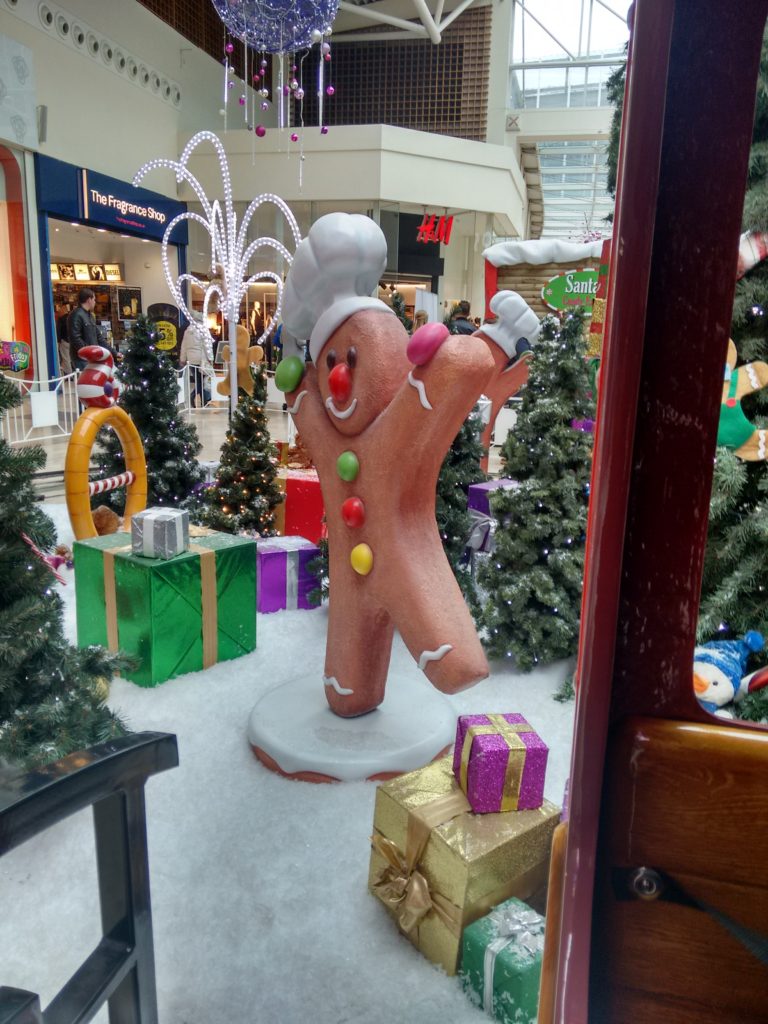 There are some great places to eat, perfect for celebrating Christmas in Basingstoke! We headed to Pizza Express, it has a wonderful alfresco dining area complete with blankets to keep you cosy! I'll be writing about our experience in a separate post as we really enjoyed our meal – a fabulous atmosphere!
Did you know that Basingstoke has two wonderful museums? The Willis Museum which is currently hosting the Alice in Wonderland collection – on loan from the British Museum. And Milestones Museum? The Milestones Museum takes your family back in time. Walk through the streets of bygone Britain. Peek inside a traditional Romany Gypsy Caravan. Climb aboard an old-fashioned double-decker bus – complete with leatherette seats! The children loved going and looking inside the old shops, I think they found the toy shop really interesting.
Undoubtedly, the old-fashioned sweet shop was the most popular part of the museum! The sweet shop is sells traditional sweets which were sold in 1940's Britain. At the entrance to the museum exchange a £1 coin for an old penny and ration book, which entitles you to 2oz of your favourite sweets. The children loved this, and the lady explained carefully that these sweets would have had to last an entire week.
Another popular part of the museum was the penny arcade, seeing these old machines still in working order was quite fantastic. The children spent a long time looking at the puppet shows, and trying to work out how to win on the grabbing machines..we did have some success too!
Milestones Museum is educational, but more than that, it's fun. It's hands on and the learning is second to the exploring, seeing and doing. We had never been to Milestones before, I didn't really think it'd be that much fun, but I was wrong! We will definitely be going back to Milestones, to explore again – it's the perfect place for a winter day out! If you're looking to go over Christmas there will be a Traditional Christmas Grotto, and I think that would be worth considering as part of your day out!
There are also two wonderful theatres in Basingstoke, The Haymarket and The Anvil. The Anvil is hosting Basingstoke's Panto – Sleeping Beauty, starring Nina from Cbeebies show Nina and the Neurons! If that's not enough fun for your, there's two cinemas, Indoor Skydiving, a dry ski slope, bowling AND an ice rink. There's so much to do, so why not celebrate Christmas in Basingstoke?
Disclaimer; PR Collaboration
You May Also Like
09/11/2020
25/03/2019