Children's Gifts from Wicked Uncle #Review
22/07/2016
As a child, there was always a family relative who meant well by buying me a gift, but most of the time got it a bit wrong. You see, if you don't have children, or do but they're a different age or gender, it's often hard to know what to buy as a gift. My children, have grown to accept that there's one Auntie who always gets it wrong, last Christmas one was presented with a Thomas the Tank engine pencil, while the other received a spoon and some socks split from a multi pack to make the parcel look a bit bulkier (I guess they were practical..). So, when Wicked Uncle offered to leap to our rescue and show Auntie what she should be buying the children, we had to say yes!
Here's what Auntie had to say..
When it comes to children's presents I don't know where to start. My biggest problem is knowing what is age appropriate and so I found the search filters on the site really helpful.
What I did know is that I was buying for gorgeous clever boys who have a great sense of adventure and inquisitiveness. I didn't want to buy them something that would keep their interest and I was spoiled for choice on Wicked Uncle.
I picked the greenhouse and the Aqua Dragons because I can remember being fascinated by watching things grow as a child and wanted the boys to experience this too. I'm excited to see the results!
The box arrived, and it was clearly labelled where it was from, something to bear in mind if you are trying to buy without the children knowing! However, for us it added to the excitement as the boys could see it was ultimately for them! They opened it carefully and squealed with delight, before instantly starting to argue who was going to have the "Super cool!!" Aqua Dragons and then asking how the greenhouse fitted in the little box..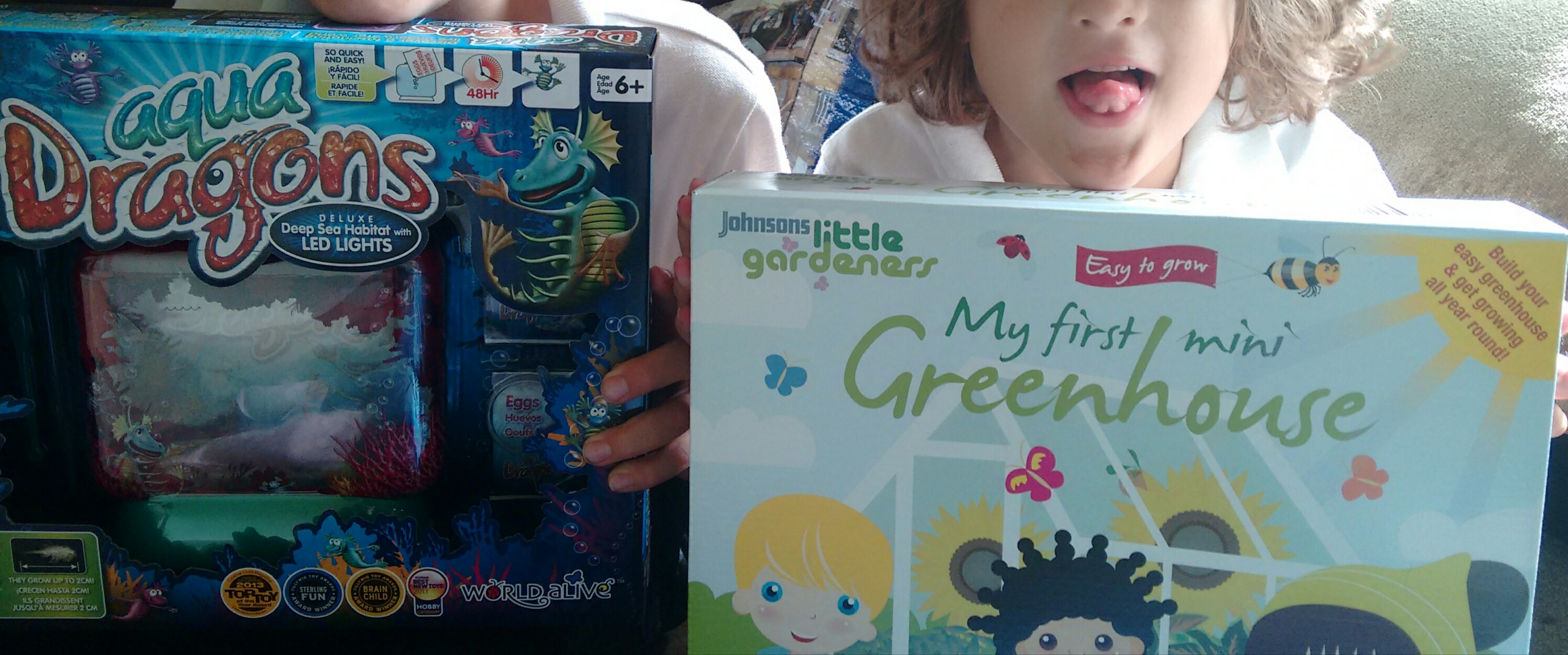 So, the boys first impressions were positive, and my impressions were good too – actually I was delighted that these were presents which would be interesting for them for atleast a few weeks! To save arguments, we agreed that they would share both presents, so they could both enjoy them.
The Aqua Dragons set was quick and easy to set up, E (age 5) was a little disappointed that he didn't instantly see anything, but announced that he would turn the light on to "check" each day. Each morning, both boys have turned the light on and watched to see if the Aqua Dragons had grown, they carefully checked how to care for the Aqua Dragons, and then finally..squeals of delight as they could see tiny Aqua dragons! The fact that there's a little light really makes this set, as it enables the children to easily see the Aqua Dragons as they grow and swim about!
The gardening set is perfect to keep little hands busy this summer holiday, and both boys have enjoyed planting seeds into the greenhouse. The green house was quite hard to build, it definitely needs a grown up or an older child (9+) as it is quite a fiddle to attach all the bits firmly.
,
As a parent, I was impressed with the gifts our Wicked Auntie was able to choose from Wicked Uncle! The gifts were fun, and as they are "growing" things, they've kept the boys busy for longer than most other gifts they've received this year! I like the fact that Wicked Uncle offers a great variety of gifts, from the cool tech t-shirt, to the more classic wooden shield and sword, there's basically something which every child might enjoy! I loved the sweet addition of a "Thank you" postcard for your child to give to the sender of the gifts, a simple but marvellous touch, and I'll certainly be using Wicked Uncle myself to make present shopping fun and easy!

Disclaimer: Wicked Auntie was given a voucher to spend on the Wicked Uncle site in return for an honest review. All thoughts and images are my own.
You May Also Like
24/10/2017
18/09/2016
28/03/2021