Sylvanian Families turn 30!
16/07/2015
Sylvanian Families, once upon a time they were my favourite toy, and to be honest I still enjoy playing with them! Did you know that the Sylvanian Family have just celebrated their 30th Birthday!
The attention to detail on Sylvanian Families really brings these little characters to life, and allows a world of imagination to come to life! We were lucky enough to have the Sylvanian Cat family have come to stay, E decided they needed new names so welcome Mr and Mrs Cat, Kitty Cat, and Tom Cat.
Arriving with the Cat family, was their family saloon car, E was a bit annoyed that it was red, he said he'd rather it was green, but we explained that red was Mr Cat's favourite colour and all was well. E was excited to be able to choose the car number plate, and carefully stick it onto the car, with some help from Mr Cat!
The car comes with a table built into the rear number plate, and picnic basket, perfect for family days out, though I'm not sure Mrs Cat has really thought about the best way to pack the sandwiches..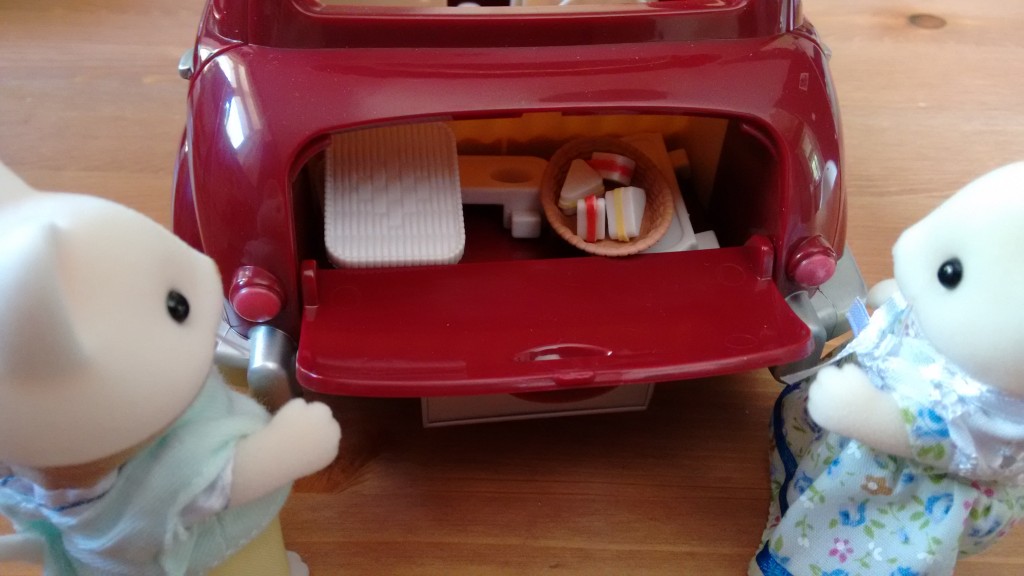 Thankfully, Mr Cat decided they needed to buy a roof rack, complete with BBQ set! The roof rack is easy to fit, but unfortunately the naughty Tom and Kitty cat quickly hid the elastic straps which hold the load onto the rack. Now Mr Cat has to drive very slowly to stop him losing the load as he drives along!  The only problem with the roof rack, is that it can't be fitted until after the Sylvanian's are in the car, as the car doors don't open. This means they do need a friend or two to let them get into the car and then attach the roof rack!
E's favourite bit of the entire set was definitely the BBQ set which came as part of the roof rack, he loves that the tongs can be held by the characters, and that all the Sylvanian Family characters can play together!
Disclaimer: We were sent the items for the purpose of an honest review. All thoughts and images are my own.
You May Also Like
09/11/2020
21/06/2021