My bag. My style! – Babymoov
29/05/2015
I was recently invited to the launch of Babymoov's new collection of bags My bag. My Style, and we were able to watch the launch fashion show which was live from Paris, check out the fashion show below!
My Bag My Style Live Fashion Show from Babymoov on Vimeo.
Launched on the 19th May they've launched 7 original designs of bag in the range, in a variety of colours. Each design aims to reflect an individual parents style and requirements in a bag – proving you can have it all – style and practicality from one bag!
From bags which look just like a stylish handbag – ideal for lunches with friends. My personal favourite of these was the Glitter bag.
With huge amounts of space inside this bag it has the perfect combination of style and practicality. The bags are beautifully lined and come with a selection of co-ordinating accessories.
For those who prefer a patterned design the beautiful leaf print on the Style bag won't look out of place, whether you are heading to the beach or out shopping this bag oozes a kind of retro cool.
There are plenty to suit both Mums and Dads, with a variety of styles including practical backpacks;
And my personal favourite, which I will be fully reviewing for you shortly! The Traveller;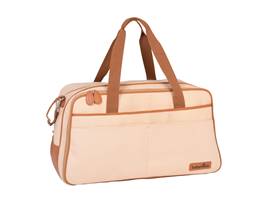 I have to say I was really impressed with the range, and having used the Traveller for a couple of days I'm delighted with it already! These bags have been designed with parents for parents, and they really do cover every detail!
Can't wait for my review? Check out the full range of bags over at Babymoov!
You May Also Like
29/08/2016
16/01/2020
07/04/2023